Yep, you know you're a miniaturist when getting tools for mini making excites you. The most recent buy for me is a 6 inch digital caliper by Cen-Tech.
I purchased it at Harbor Freight Tools near my home. I found this company when I was looking into purchasing a small table saw and was informed that they carried the Mighty Mite and debated buying it (but after reading the blah reviews on this product on a few model builder forums, I went with the KS Proxxon instead. My review coming soon, I promise).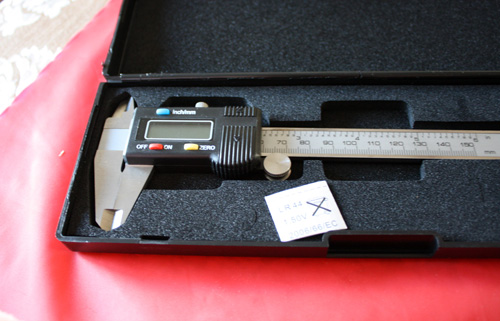 I only decided to visit Harbor Freight because they sent me a coupon for $9.99 for the 12 inch calipers which retailed at $25.99. The deal was too good to pass up!
Unfortunately, the coupon was in reality for the 6 inch version that retailed at $12-$13, not the 12 inch version, though the text on the coupon says 12 inch. I argued this fact, but they won out because the model number listed on the coupon was for the 6 inch version (seriously, like I would know what the actual model number was until I got there?). I felt like that was deceptive marketing and I don't appreciate it – I won't be back. But even though it was for the 6 inch caliper, I figured I'd have saved a few bucks and I really wanted one so I bought it anyway.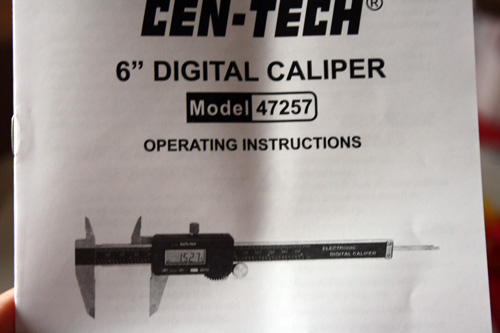 When I got home, I found that I didn't get much of a deal paying $10+tax for the 6″ calipers after checking out the price on Amazon, which lists it for about $10.50ish for the 6″ version. Ugh.
On top of that, even though calipers on Amazon is a different brand, it looks identical to what I got. Ah well. Another lesson on doing better research before buying… or not giving into temptation. I might have lost out by 10 cents or so with tax and I don't care about that. I simply do not want to support a dishonest company by buying their stuff. Ugh.
I guess I'm ranting a bit here. I think I'm done for now.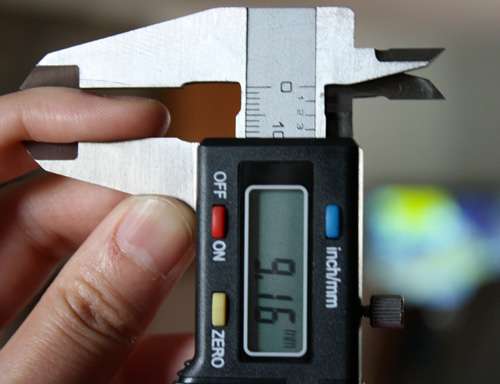 Despite all that, I still love my new caliper. I went about measuring all sorts of stuff around the house. (here I am measuring my finger lol)
This will be infinitely useful in building minis as well as measuring goodies for 3D modeling.
Next purchase will probably be a new camera tripod so I can take better pictures of my minis *wink*wink*