I recently joined the Greenleaf forums (I've been mostly lurking) and the first person to greet me was Wendy Elaine. From poking around her Greenleaf profile, I was so delighted to see her website and the wonderful dollhouses and custom furniture she has created!
The very first dollhouse she worked on was the massive Greenleaf Beacon Hill. Its funny to think about how I wussed out by starting with the teeny tiny Coventry Cottage and Wendy took the huge Beacon Hill as her first. LOL.
This was her first result.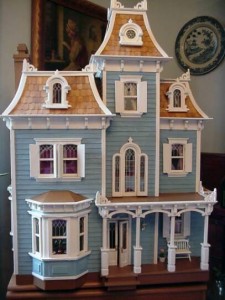 WOW! Her site even has pictures of the progress of building the Beacon Hill. Wendy has actually finished over 10 dollhouse kits and its really amazing to see the pictures, so I really hope you visit Wendy's website to check out the rest of her work!