I just posted the Coventry for sale on Craigslist and Etsy. Hopefully I'll get a buyer so I can get myself that BJD. 😉 If I don't sell it by Dec 25th, its going to be raffled off at my dad's church's xmas party. Either way, its going somewhere.
While I still have it, I'm going to have a little fun with it!
Going along with the Coventry Cottage's green color, I wanted to use my new green Reac goodies in a scene. I'm pretending some trendy young professional gal just moved into her grand mother's cottage. That's why the old wallpaper is still up and why the cottage is sparsely decorated.
Click for a bigger view!
The mug you see there is the very first miniature collectable that ever came into my possession. It's supposed to be a charm that is part of a bracelet. I think I was about 14-15 years old when I got it. Despite its size, I never lost it and I've always treasured it. Over 10 years later, I can finally use it in a proper mini scene!
As for the scene itself, lighting it was tricky as the Coventry Cottage has two open backs and was flooded with florescent lights. Too much lighting made the photos look very washed out. I had to use a pair of slacks to create a wall to block out some of the lighting.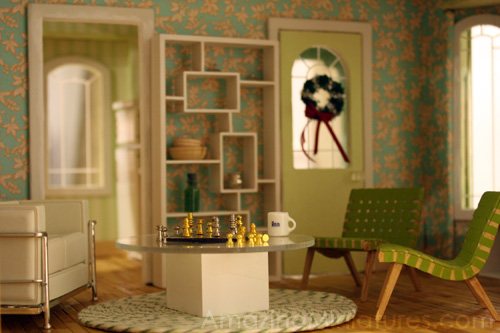 The picture above is my favorite out of the whole set (I took over 100 pictures). In my opinion, it looks the most real. The shadows, focus, depth of field, and scale looks great.
Overall, the Coventry Cottage is not a good dollhouse for picture taking.The two wall openings severly limits where you can take photos. It was still fun though. I want to try a more Christmasy scene next.
Furniture Info: All seating are by ReacJapan – Rug, Coffee Table, Bookcase, Box End Tables are made by me – Holiday Decorations made by Lyssa England – all else are generic/mass market minis bought off Ebay/Online/Craft stores.