On the Call of the Small's blog, the first sentence of her second paragraph started off with "Today, the lovely and funny Emily Henderson…"
Why does that name sound familiar?
"…winner of the HGTV show…"
Ok, I remember her! I remember rooting for her on Design Star because she had a dry sense of humor (kind of like me) and she made me laugh! That's always a plus. 😉
So on further reading, I found that she's having a challenge called the I'm a Giant challenge. Here's why she's doing it:
Dollhouses are totally underrated, often considered 'creepy' but we all secretly like them.  We do. Men love their train sets  (i do too, thats next) because its hard to deny the draw of a miniature perfect world.  But all of a sudden its weird for grown women to play with dollhouses? RUDE!!
I can relate 100% to this. It's not fair that it's cool for the guys to build miniature trains and cars, but NOT cool for women (or anyone other than architects) to have anything to do scale houses. Sorry, just ranting here, because I recently got called weird due to having/making miniatures. So annoying! But hopefully, with a celebrity like Emily Henderson on our side, dollhouses (especially the modern kind!) get more and more mainstream.
As for the challenge itself, here are the ground rules.
The challenge is to decorate a dollhouse.  You can buy one or make something that resembles a miniature space – it doesn't have to be a 'house' per say, it could be a loft or an industrial space or i'm trying to convince my boxing trainer to do a mini boxing gym.  It can be conceptual or literal.  Whatever you want.
Sounds easy enough right? It's open ended enough that I can even follow it! Woooo!
And these are the people joining her are the Brick House, Design for Mankind, Homme Maker, Girl Domestic, Little Green Notebook, Making it Lovely, and Simply Grove (all worth a look if you want a glimpse into other perspective and ideas).
It starts nowish and ends on December 15th for a big reveal/party in LA.
Remember how I said that name sounded familiar?
It's not because she's famous (though it sorta is), but the name sounded familiar because I had mailed out an Etsy order of an unfinished RC bookcase to an "Emily Henderson" in LA a few days before reading about the challenge.
It wasn't until then that I put 2 and 2 together that I realized Emily Freaking Henderson bought my stuff and I proceeded to freaked out a little – And by a little, I mean a lot (like screaming out loud and running around the house; a lot).
Really, I'm not one to get star struck. I've met famous people I've liked and was a fan of before and was all "meh" about it. But something about this really got me giddy. I think it has to do with dollhouses? Heck, just writing about this is getting my heart rate up! YOW!
So am I a Giant?
Yes. I totally am a giant and I am totally doing this.
Not without some caveats though.
The fall is a really, really tough time for me, what with getting ready for the holiday season, setting up a shop on Storenvy, (planning for and then) going on vacation to Puerto Rico in Oct, participating in the NaNoWriMo this November (not dollhouse related, but very cool), working on 2 freelance projects, and prepping for trade shows and audits at the day job. It's not going to be easy, but dammit, I'm doing it!
Part of the reason why I'm forcing myself to participate in the challenge is because it's about decorating. If you know me well enough, you'd know that I don't quite have the attention span for decorating. I'd much rather design and make things than to decorate it. So yeah, I would really love to finish a house and have it decorated enough for lovely little scenes and photo shoots.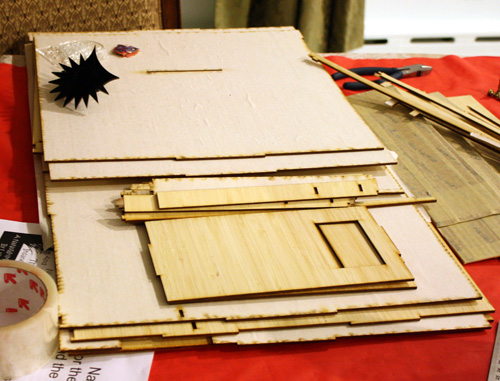 If you're wondering, I'll be building the Hello.Shawn House. I am waiting on the very LAST part (front of the 2nd floor) to come in and it will be built (finally).
I think you should join in the challenge too! 😉