Here's what I've been working on in the past few months. You might have seen some clues about it posted on my facebook page.
It's an actual 1:12 dollhouse.
The Hello.Shawn house is named after my annoying lovely baby brother. Okay, he's not really a baby, being in high school and all, but since I am much older than him, he will always be the baby to me.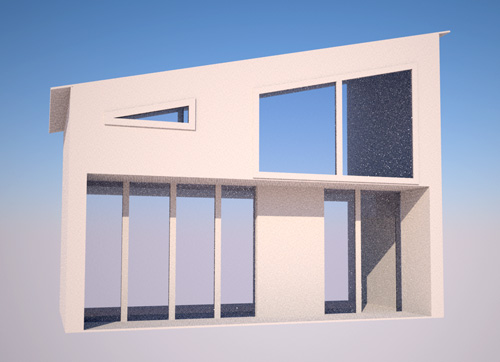 Please excuse the grainy images. I was only able to run quick 10 minute renders. My crappy computer would explode otherwise.
The Hello.Shawn house was designed to come in many sections. More add-ons may be made later as I am a big believer in choice and all that good stuff. Pictured above and below is the "main" house. As you can see, it is very window happy. I am quite fond of windows.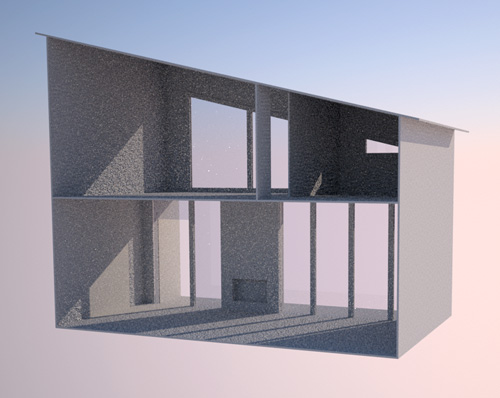 It has a large kitchen/living area below with a built in fireplace and two rooms above. Stairs are not included in the main house, unfortunately. I could not fit it in without altering the layout I wanted with the front face design I wanted. Detachable stairs may be made for the main house in the future.
You may have noticed that the front door is missing. I'm still designing (and redesigning) the components so it can be a working door and look realistic. The parts will be 3D printed.
There were some changes made after these renders, so the physical prototype will look a smidge different.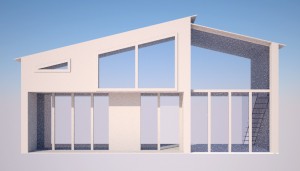 Now for the H.S add-on.  The whole front of the add-on is supported by a single sheet of the acrylic "glass" windows. The add-on has the stairs and two extra rooms, one for each floor. Other add-on ideas I am kicking around include a one room add-on, great room add-on, garage, and who knows?
Currently, it is specced for 1:12 scale to be laser cut in 3mm plywood or MDF (or both, depends on costs).  I may scale it to 1:24 for a less costly petite version. Maybe.
The main 1:12 house (no add-on) measures approximately 15″ deep and 30″ wide. When I say it out loud, it feels kind of gigantic (especially with the add-on factored in), so there may be changes depending on how the prototypes turn out.
Also, depending on the amount of excess cut off material, the waste parts of the may have some furniture kits included to utilize as much of the material as possible.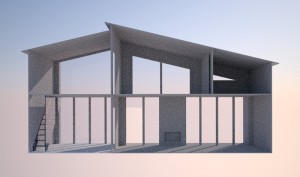 There were a few houses designed before the Hello.Shawn, but they were shelved because they did not fit the limitations of the laser cutter, were too big, too complex (for a first kit), too expensive (upwards of $500!), or all of the above.
If you can believe it, Hello.Shawn was originally designed as a front opening house with the add-on, but was re-worked in order to make it easier to assemble and about 30%-40% less costly.
Speaking of cost, what's the price tag?
I have no clue. I have some rough estimates only on the material costs, not the cutting process (which may likely be much more costly than the material itself). This is also assuming that I'll bother selling it. If I do, it'll be on a made-to-order basis with a wait time of up to a month or longer.
The multitude of "mights" and "maybes" throughout this post depends on how everything fits together, if I like it, need changes, or even care to sell the H.S as a kit.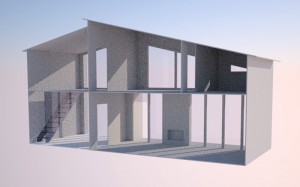 I would hope for the prototype to be assembled soon. But since I'm on a really tight budget and laser cutting fairly expensive for me, I can only get a few parts fabbed here and there as I get the money to do so. So far, I only have about half the components in my hands while I'm trying to scrounge up the money for the rest.
As for the Hello.Shawn design, influences include Eichler houses, Rohe's Farnsworth, A. Quincy Jones, Arne Jacobsen, and Aldo van Eyck, off the top of my head. Pretty much any architect that featured floor to ceiling windows (and lots of them) influenced the design. I do like my windows, you know?
Comments? Questions? Critiques? Go!
P.S. In case you're wondering, yes, the Nyne House is still being worked on. I actually have some progress photos.. if I ever get to editing them!