This was the post that I've started and couldn't find the time to finish it. I'm getting off my lazy butt now….
I am currently in the "making stuff" phase as a way procrastinating from finishing the Coventry Cottage *shifts eyes* and I thought I would show you the current project I am working on.
This is project was inspired by Ikea's FUSION table set. This table is something I picture myself with if I had a small apartment in the city. Its just so cool and functional and I've alway loved this set so it was only natural for me to try to make something similar in 1:12 scale.
Again, this is not a "how-to" but is more of a "in-progress" post.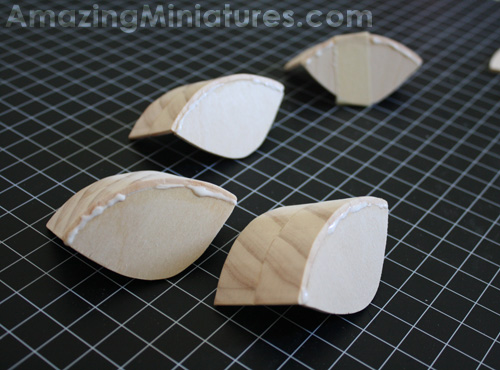 Now I didn't want to make it exactly like the Fusion table set, due to the limitations of my tools, materials, and ability. So instead of the Fusion-esque rounded edge square, I made a complete circle table set instead. It just seemed easier that way.
I cut my pieces (Pine and Baltic Birch ply) via scroll saw and then sanded them as flush as possible. Given that this is all HAND sanded, its not as nice and flush as I'd like. The whole process also took a heck of a lot longer than I expected as well.
Again, you can see that there's no real carpentry technique involved (I'm a little scared of making 1:12 scale joints..), but its just me cutting out the desired shape and gluing it all together.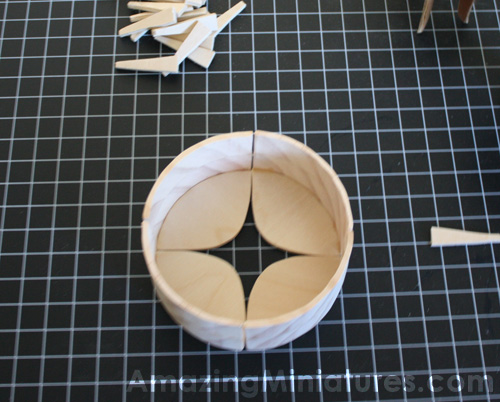 Here's the chairs without the legs. It forms into a nice circle as intended! You can see the legs scattered on the top of the image.
During the design process, it looked great on paper, but with tangible pieces in front of me, I wasn't sure how stable the chairs would be compared to the 3D design, so I had to do a few dry fits to figure it out.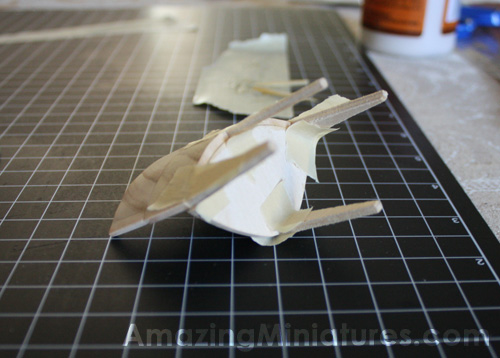 For the dry fitting stage, I fiddled around with how and where I'd like the legs to be positioned, and in the end I just went with how its configured with the Fusion table set, because it felt the most stable.
I think it was a lot more annoying with such oblong pieces and I did struggle a bit to find some stability with the legs. Now I know why Ikea opted to go for a squarish table, because the seats are squarish, which makes the placement of the legs easier and much more sturdy than something almond shaped.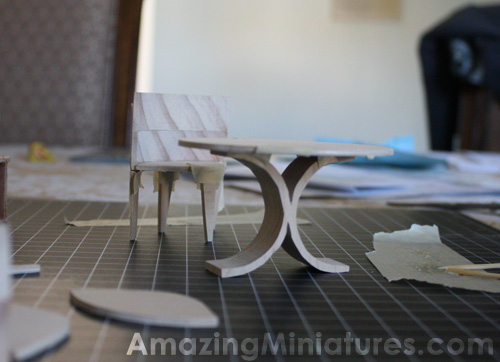 Here's just some more dry fitting. Above is the original table legs, which you can see kept with the theme of "roundness" in the table set. But due to the final positioning of the chair legs, it would have made it impossible to have all 4 chairs under the table if I used this original table leg.
In the end, I just opted to keep it simple and have a single, thick table leg in the center of the table with a wide bottom base.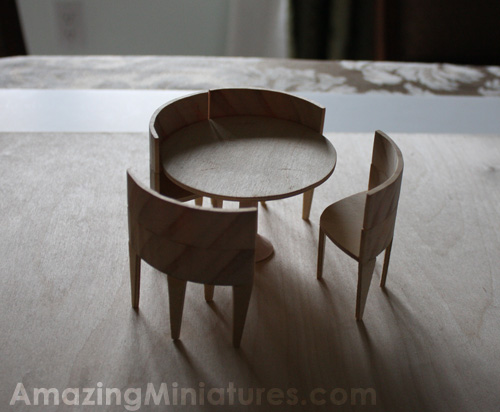 This is after everything is glued together. You can see how the table leg turned out. I sculpted the leg base with polymer clay. Now the chairs all fit under the table as I had planned.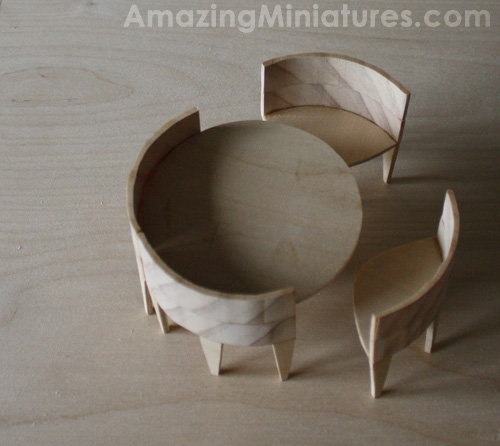 Another closer view. I'm not sure how the table top got so messy. I am thinking a certain little brother has been touching my miniatures.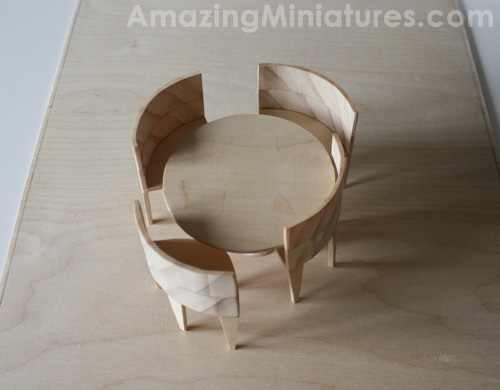 This is my favorite picture of the set.
With the designing, cutting, sanding, gluing, sanding, dry fitting, sanding, gluing, sculpting, and sanding, it took over 16 hours spread between 2 days to see what you have here. Originally, I was going to paint the set black or a very dark brown, but I'm probably not going to finish it now. I'm not happy with the overall wood working (despite the hours of hand sanding) and the poor stability of the chairs as they fell over (even if you barely nudge them!). Yes, I know, I am a perfectionist and it annoys me too.
Despite that (and all the hand sanding), it was a great and fun learning process, especially in miniature furniture design. I am still going to attempt to build another dining set in the future, but since it took so dang long with all the pieces, I'm going to hold off until I get some better tools, or until the trauma from all the hand sanding wears off. =)