One of the things I've started doing after picking up my dollhouse obsession is browsing through various online shops for furniture or room decor for inspiration. The folder now has over 200 images in it!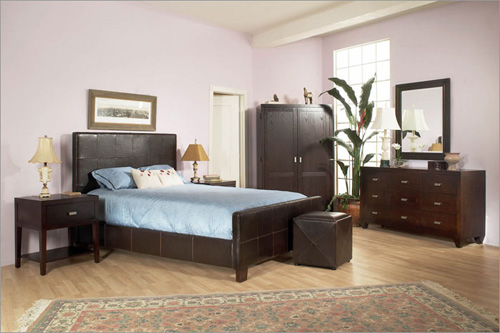 The picture above is a life sized bed room set. It's called Milano Chocolate set, which is fitting because it sure looks like chocolate to me! I was going purchase a while back, but didn't since it really wouldn't fit in my room. If I were to move to a bigger space, I would probably buy this set or something similar to it.
The bed frame in general is what inspired me to make my own modified miniature twin bed version of it. I mean, its just a bunch of squares, so how hard can it be?
This isn't really a "how-to" post, but its more so to give you an idea of what I did. So lets start!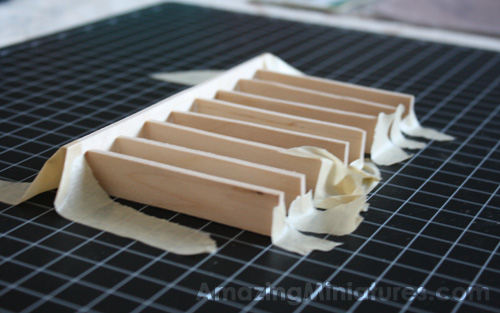 I cut up a bunch of 1/8″ baltic birch plywood for the bottom of the bed (what's it called? box spring? bottom frame?) and assembled them on my cutting mat for the alignment reference with the tape to hold it up while it dries. As you can see, its not life-sized carpentry technique gone miniature or anything, its just me hacking and gluing a bunch of pieces of wood together.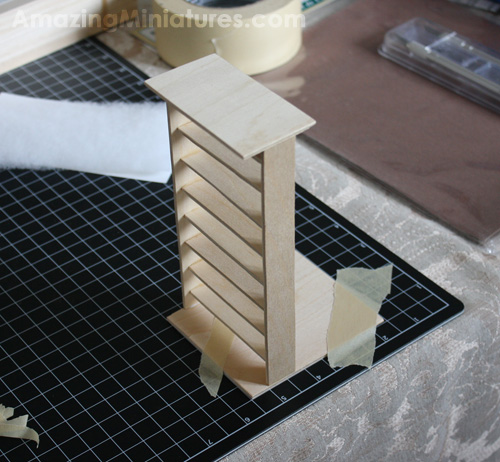 Its looking like an actual bed frame now. I did put a small weight on it to pressure the pieces together while the glue dried.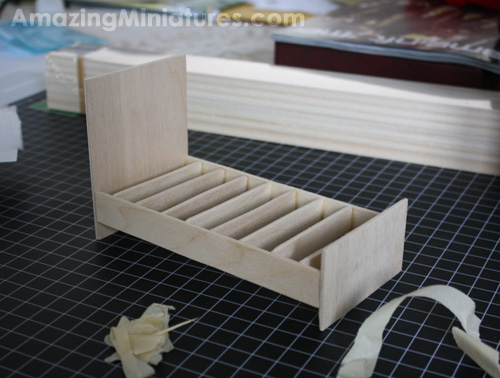 Everything is all dry and stable! I know the legs are not exactly like the Milano Chocolate bed frame, but I really got aggravated cutting all these pieces, so this is my modified version.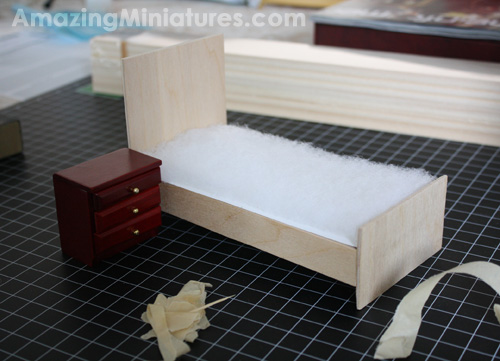 I just added the nightstand for reference and to get an idea of how the bed would look like in a set.
So this is where I stopped. You see, most people would have a house or a room, or even a simple idea of what they want their room to look like. They will then get or build the proper pieces and decorate accordingly to their concepts. There's me on the other hand, who just went builds something on a whim with no idea what to do with it. I currently have nothing that fits with the style (other than the Coventry Cottage lol).
Once I finally decide what to do with it, I will then paint or stain it the proper color and make it look more like the Milano Chocolate bed with all the squares.
I am really horrible at conceptualizing a cohesive room plan (if you can't already tell). I am thinking of making the whole set unstained/colored and go on from there.
Any other ideas? What do you think?