Sorry for the lack of posts. It took longer than expected for the assembly, photography, and image editing for the first batch of furniture pieces I've been working on.
Warning, lots of photos ahead!
If you visit my Etsy shop often, you should recognize the Ikea inspired miniature Expedit 4×4 in black and white. I was pleased to find that the pieces were modeled correctly (in a 3d image editing software) so it was good to go. The bookcase is rather heavy for a miniature because it had required the most acrylic materials of all the pieces to assemble. I'm not sure what kind of demand there is for this particular piece in its current color scheme (or possibly other colors), but I'm a little concerned that the costs of the materials to make it may be prohibitive to some. I'll likely make a 4×3 or 3×3 version so it can a bit more affordable.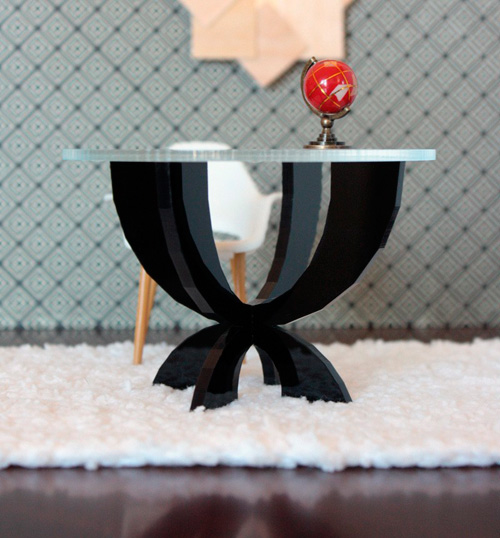 The above picture should also be fairly recognizable. It is a prototype of the XCurve Small Dining Table. As it is a prototype, I did not fully curve the X to save on costs. Once I had the physical table in my hands, I was able to make the proper fixes in the modeling program, and I am sort of close to the final design. Now, its just a matter of waiting for the next version to be made.
If you want to buy the prototype on the cheap, I'm selling the cleanest assembly of it on Etsy.  Unfortunately, it only includes the XCurve prototype table legs (SOLD) and not the acrylic top.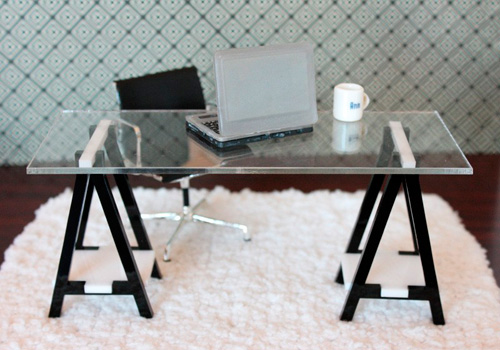 This is my new pride and joy, the Ikea inspired Vika desk in black & white acrylic (which I've dubbed the Vika-esque). I had prototyped the plans in paper, then cardboard, then wood (with the scroll saw), and when it was sent it to the fabricator, it came back nearly perfect.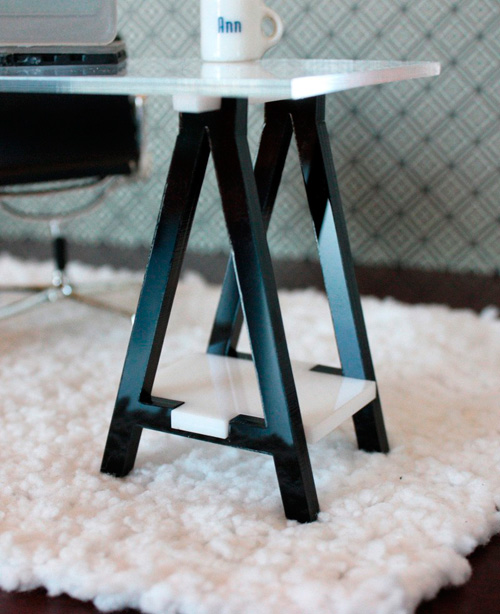 Some parts can be a bit tighter, but I am very pleased at how it turned out!
I chose black and white because these colors can work with most other colors. Is there another color you'd like to see this in?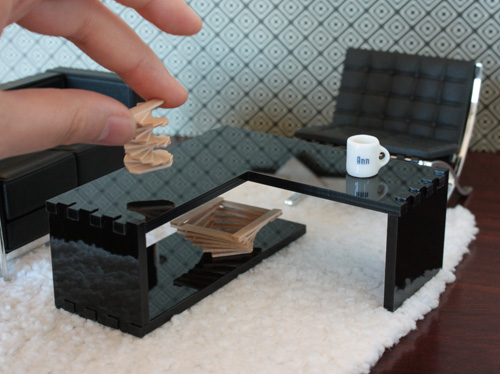 Now for some other never before seen pieces…
I'm working on a modular series called the Locke Series where the pieces are multi-configurable and can be snapped ("locked") on and off without use of adhesives.
Unfortunately, I had to use glue to attach everything without having it falling over. The prototypes certainly did not come out as well as I'd hoped so a lot more work will need to be put into tweaking the plans.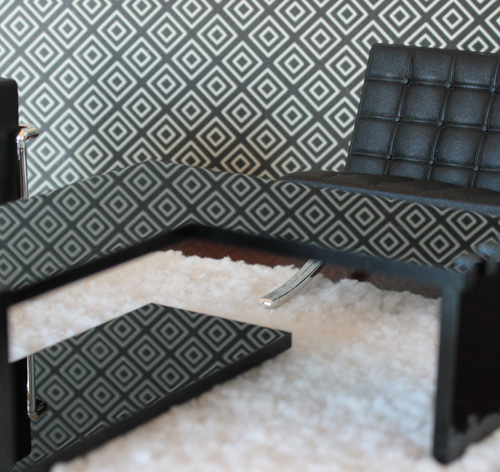 Oh by the way, with acrylic this shiny, it is kind of annoying to photograph. It confused the heck out of my camera's auto-focus! Fortunately, the picture came out somewhat cool, doncha think?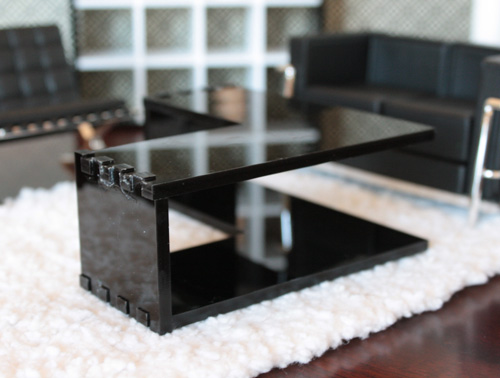 This is another configuration of the Locke table. I had to glue this set together too… and I did a horrible job at it! Ugh. Now I'm not sure what the heck I can do with this piece.
So there you have it, my small update on the pieces so far. There are a few more original pieces still languishing in mid assembly/salvaging so I'll save them for part two!