I've been meaning to post earlier, but last Saturday morning, my Macbook's screen would not turn on so I ended up doing a whole lot of freaking out. On Sunday, I was able to bring my laptop to the Apple store to diagnose the problem, only to find that the GPU (video card) is fried and that it needs to be replaced.  Luckily, it is covered and I will not have to spend anything to get it fixed. *relived sigh*
I am still kind of screwed, as that is where all my work files are and I have a bunch of time sensitive projects to manage, like.. right now! The silver lining is that I was able to get my main files before sending the laptop away. At least I won't be completely useless.
The snafu with my Macbook really put me on edge, so I was busy double checking EVERYTHING to make sure its all in order. With the laptop out of commission, a bunch of other projects will have to be pushed back until I get it back. *grumbles*
And with all that going on, it wasn't until Monday evening that I check my mail to find a lovely little package from my mini friend Lyssa.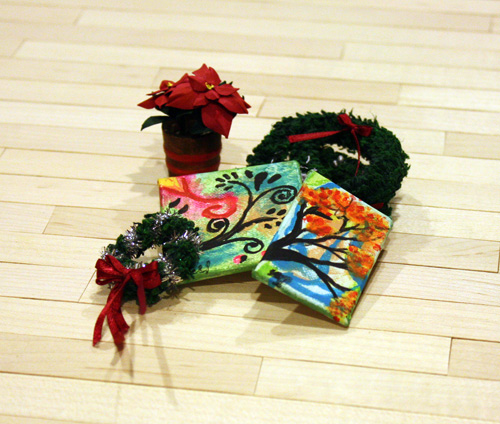 She was quite the Santa! There's a wreath, garland, a lovely potted poinsetta, and two paintings. I just LOVE the paintings. I've been oogling her paintings for a while so its awesome to actually have not one, but TWO paintings, wooo!
.. this means I have to actually finish a house so I can put it somewhere… *gulp*
Are you jealous? If you are, you should check out Lyssa's Etsy store and get your own! 😉
You know, after a really frustrating weekend, receiving these special gifts really brightened up my day. *sniffles* I even teared up when I got them. What can I say? I am a big sap.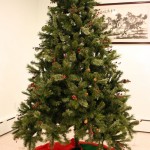 Now that I've (sort of) calmed down, I'm hoping to find some time to post some progress updates on the Nyne. I also have some pretty big news (at least to me) that I'll be writing about this week! (hopefully)
With that, I leave you with a tree. 😉