Please open up your comments to allow the "Name and URL" option!
Here's Why:
While most miniaturists seem to use Blogspot, not all do. (like me!)
If you are using the Blogger platform and you do not allow options other than Google accounts/LiveJournal/etc, then you are prohibiting these people that want to interact and connect with you and your work, from doing so (like me!).
Sure, if they REALLY want to submit a comment to you, they can always create a Google account. It is free after all, right? But why limit your audience? If you want to limit your audience, why bother allowing comments at all?
Personally, I did create a Google account for commenting, but since I also use GMail for my work, I would have to log out of my work email, log into my personal email, write the comment, log back out, and log back into the work email. Having to do this numerous times a day is extremely tiresome. Its gotten to the point that I don't even consider commenting on those blogs, even if I wanted to. Its simply too much trouble. Other than my personal example, what if that person does not want to create yet another account out of the many they probably already have, just to comment on your one blog?
If you are worried about spam, you can turn on the word verification and enable approvals before the comment is visible. That will limit any spam 99.7% of the time!
So please, please, please open up your comments! People want to talk to you!
Here's How:
Log into your Blogger account.
Click on the "Settings" tab.
Click on the "Comments" tab within the "Settings" tab.
Near the top of the page, is the  "Who Can Comment" section. Check the "Anyone – includes Anonymous Users" (Seen below)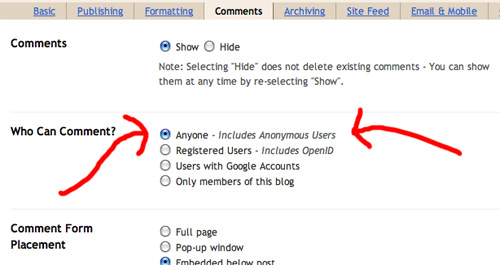 If you want to reduce spam, here's how:
On the same "Comments" tab within the "Settings" tab (Steps 1-3 above), scroll all the way down the page.
Where it says "Comment Moderation," select "Always" if you want to approve every single comment that you receive.
–Choose "Only on posts older than # days" if you only want to moderate comments that are older than a certain # days. This is my personal preference because spammers will more likely comment on older posts, because they know that older posts are not usually monitored as much as newer posts where the blogger expects comments.
–Choose "Never" if you want to allow all comments to be posted immediately.
Where it says "Show Word Verification for Comments," select "Yes." This will require a image word verification before the comment is submitted. I very HIGHLY recommend that you select this. Many spammers use software in order to spam thousands of blogs in minutes. Since most of these software can only read code and not images, enabling the image word verification will stop them in their tracks.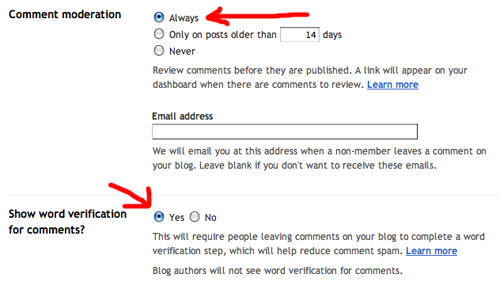 Last Bits:
I love the miniatures community and I want to be as involved as possible and I am sure many other miniaturists feel the same way so it can be discouraging if the communication is limited for whatever reason. So please do the community a favor and let us talk to you! And if you already have opened up comments, I thank you!