I've seen Ji Lee work in BoingBoing a few years ago and was reminded about it by Eloise Moorehead (who blogs not only about art, but gobs of dollhouse miniatures related art too, you should really check out her blog).
Lee installs miniature Parallel Worlds on ceilings:
People don't look at the ceiling anymore. It's a dead space. So I wanted to bring a small wink to this space. I also liked the idea that somehow there's a parallel world which coexists with ours.
I also did not realize that he has another series called Squozen:
"Squozen" is an installation piece which captures my experience as a teen of being trapped in a strange world I didn't fit, yet I was somehow part of it. I still have these feelings sometimes.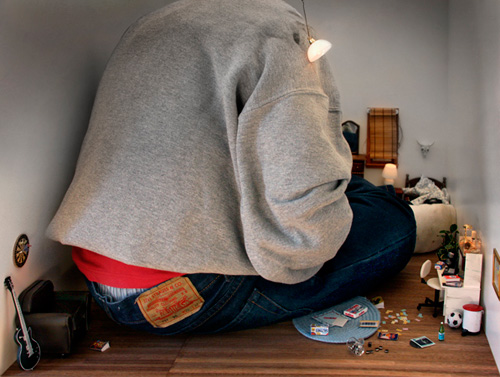 I think we all can relate.
See his website and check out his Twitter for more pictures and info.