I've been away this past weekend and now I am in the process of playing catch up to a bunch of work. In the meantime, I just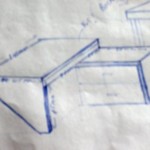 wanted to show you a sneak peek of some of the little projects I've been working on.
To the left is some poorly sketched plans. Its not to scale or anything. I just like to doodle them out with the measurements and then model them in Sketchup later. More info in future posts.
In other news, I'm working on the site redesign. Its a fairly minor redesign and you may have noticed some of the changes already. More changes coming soon.

While I was away this past weekend, the massive earthquake hit Japan, which then triggered deadly tsunamis, and nuclear threat situation with several reactors.
I am not Japanese, but if you know me, you know that I have quite a love for Japan, Japanese culture, and just about all things Japan. It is utterly heartbreaking to hear about and then see images of the devastation wrought by the earthquake and tsunamis. Just thinking about it breaks my heart.
I've done the little bit that I can to help by donating to the American Red Cross. An alternative organization to donate to is the Direct Relief International, which has a very good rating for spending most of their money on relief, as opposed to administration and promotion.
I would also like to run an event where proceeds will go to the Japan relief effort. I'll figure out the details once I decide what to do and I'll let you all know. Hopefully miniatures can help Japan too.
Please help Japan.