I know it's been a LONG time since I last posted.. sorry! Between working the day job, freelancing, and working on a secret project, *wink*wink* it didn't leave me much time to blog, unfortunately.
To get the ball rolling again, I just want to show off a recent purchase that I LOVE LOVE LOVE.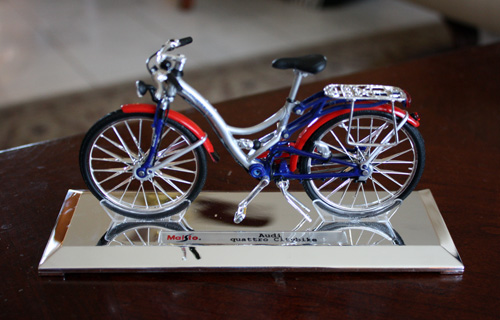 Introducing the Maisto Audi Quattro bicycle. I guess now I can say I own an Audi too 😉
Many thanks to the lovely Brae at Otterine.com for posting about her bikes and then referring me to the Ebay seller! (xyzparts
if you're wondering)
Unfortunately, it seems as if the seller
is out of the little bikes, so hopefully he will restock soon? If not, he also carries the Maisto motorcycles for anyone interested.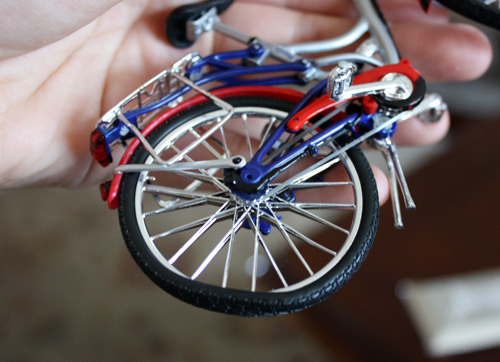 I was pretty excited to get the bike, but because of the way it was packaged, the wheel was all smooshed in. Yeah, I contemplated returning it, but found quite an easy fix: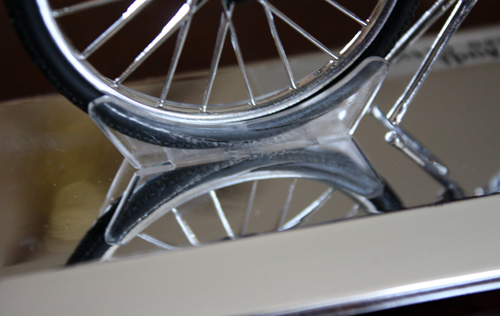 I just shoved the smooshed part into the stand. Since it's rubber, it will revert back to it's original shape if there is enough pressure holding it in.
This picture was taken a few weeks ago. I am pleased to say that it worked and the wheels are round as they should be.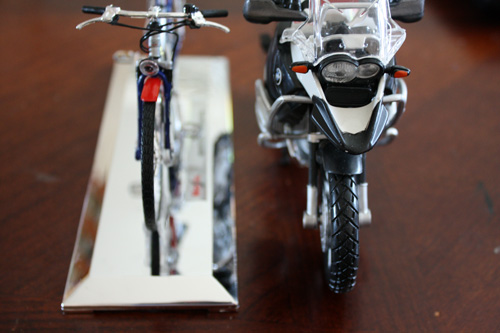 Check out the treads. I just love the details. The Quattro's partner is the 2007 BMW R 1200GS I bought last year. Seriously, these bikes are sooooo much more realistic than the generic mass produced stuff from the speciality dollhouse shops and cost a fraction of the price. I got the bicycle for $7.50 plus shipping and the motorcycle for $14-ish. Sometimes, "toys" work in our favor!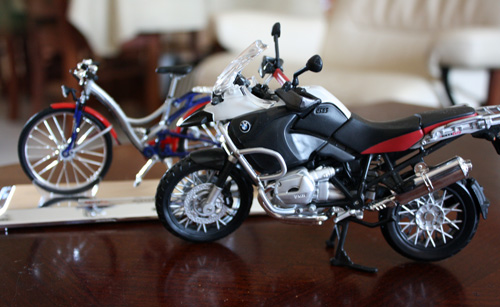 I am definitely a Maisto fan. Hopefully the next purchase will be a nice car!
…What am I talking about? I don't even have a house to put these guys in… I really need to finish up the Nyne already!