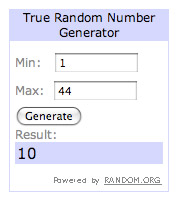 The very first giveaway I ever had was the RC Bookcase and I had 33 entries then. I did kind of cheat by counting all facebook followers, whether they knew that they were entering into a giveaway or not, so that number is a bit inflated.

This time around, I actually made a concerted effort to promote the Vika desk giveaway by telling other people and posting to various forums and groups I belong to.

I also didn't cheat by counting all facebook followers, but restricted the entries to a particular comment. In the end, I got 44 entries! That means each person had a 2.27% to win! 🙂

So I stuffed all the entries on to a spreadsheet based on the time of entry and popped it in the number generator. Lets find out who lucky number 10 is!?

Congrats to Snowfern Clover, aka Cindy!

I was hoping to get an international winner this time around and I was surprised to find out that Cindy is from Singapore… even though I've been following her blog for months now! Doh!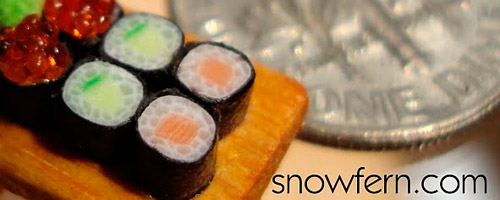 Cindy is a ridiculously talented polymer clay miniaturist. Check out her Etsy shop to see what I'm talking about. Also, more eye candy by Cindy:
Congrats again! And don't forget to check out Cindy's blog!