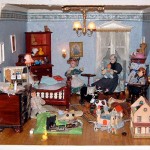 This monster of a dollhouse was built by Marianne Stengel and furnished in the style of the Chippendale-Biedermeier era. It has 16 room, 15 doors, 17 windows, 3 fireplaces, 88 lamps, and approximatedly 175 pieces of furniture. There are even 38 miniature people with 3 dogs, 4 cats, and a mouse living here! This miniature work of art took her over 18 months to create.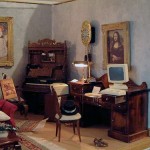 My two favorite rooms are the child's room and the study. I'm quite partial to any child's room, so I suppose I am a bit biased in choosing this. It's something about mini toys that really get me (I mean, look at the dollhouse's dollhouse! *squee!). I rather like her study because of a) the Mona Lisa! and b) a computer! Not to mention, I am the book wormish type, so this type of setting is quite favorable to me.
Of course, these are just two rooms out of 16. You NEED to visit her site and see the rest for yourself!