I just stumbled onto this article from the New York Times on how "Modern Design, in Miniature, Is Growing."
Ever since I took up miniatures, I never really felt that it was a mainstream hobby (even though there's a lot of us). But to see it show up on the New York Times was pretty thrilling for me! Not to mention that this is great coverage and hopefully it will go on to get more people interested in miniatures.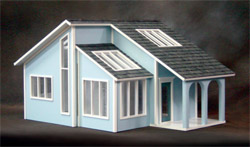 As for the article itself, it discusses the growing trend in modern designed miniatures and dollhouses. To be honest, modern miniatures definitely caught my eye! The modern look is more in line with my personal taste, but the Victorian style is more in line with my budget for this hobby, so making the decision between one or the other is tough.
I googled modern dollhouses and it seems that many of the minimalist dollhouses are way out of my price range. I did however find some nice contemporary kits that I am debating on saving up for.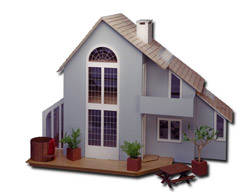 The Real Good Toys Contemporary Ranch, pictured left and the Greenleaf Brookwood, pictured right, costs about the same and is definitely in my price range. I would just have to NOT eat out, buy any clothes or miniature goodies for 2-3 months and one of these lovelies could be mine. I am leaning towards the RGT Ranch since I want to try out an MDF dollhouse.
But what the heck am I talking about? I haven't even finished my Coventry Cottage yet and am getting way ahead of myself. Its nice to dream though!
The NYT article graciously pointed out some modernist miniaturist that I will be definitely keeping an eye on. You will probably see them featured here in the future.