It's been a while since I had a giveaway (in March with the secret facebook giveaway) so it's about time I had another one!
You've seen the "work-in-progress" pictures in my Krylon Fusion spray paint review for painting acrylics post, now you can win that very set! It includes the table legs and the clear table top (sorry, chair not included).

Giveaway Details:
This giveaway is opened worldwide and I will cover shipping costs.
To be eligible for the giveaway, all you have to do is leave a comment on this blog post. Anyone who comments is automatically entered (unless its explicitly stated in your comment that you don't want to be included in the giveaway). Also, don't worry if your comment does not appear right away as I will have to approve new commenters first.
If you want a second chance at entering, comment or like this AmazingMinis's Facebook Page wall post or this one. Unfortunately, only those that "Like" the page can do so. Fortunately, it is very easy to "Like" the page in order to post! If you're already signed in to facebook, you can "Like" it from the Facebook panel on the right of this blog. Anyone who comments on the facebook post is also automatically entered.
Linking to my blog or this blog post is not required, but it is very much appreciated if you do!

Entries will close on Monday, July 25, at Noon (EST, -5GMT). All entries will be added to a spreadsheet and assigned a number and one winner will be chosen via random.org.
Please be aware, if you win and I do not have a way to reach you or if I do not get a response in three days, you will be disqualified and I will draw again.
Good luck!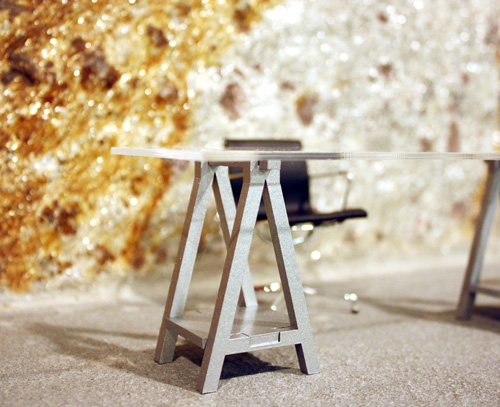 If you would like to purchase the unpainted version of the VIKAesque, do check my Etsy shop for the Large Table Top Version or the Smaller Table Top Version.
Good luck!