This is a fairly wordy post. You have been warned. 
More often than not, I am finding myself designing pieces through CAD or 3D modeling software like Cinema 4D or Google Sketchup and then fabricating it through laser cutting and (soon to be) 3D printing. It's not how most miniaturists do it, but as a self professed technophile, it feels only natural for me.
Working with technology allows me the ability to more accurately price my laser cut items as evidenced by the most glorious spreadsheet I developed shown above. It might look kind of gross to the number-allergic, but I am weird one and I like working with spreadsheets and numbers, so don't worry, it makes perfect sense. For serious.
As a result, there will be some price changes and newer releases will be (what I hope is) better priced.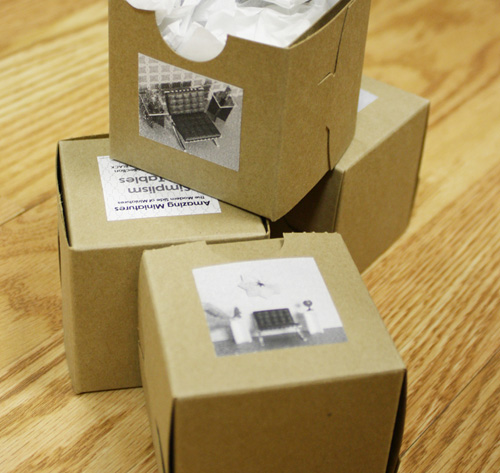 In other news, I have packaging for some stuff. If you were subscribed to my newsletter as of July 2011 (I've only posted one newsletter so far lol), you'd have known about it. In the newsletter, I mentioned that the packaging was developed because I had planned on vendoring at a mini show. Unfortunately, being a vendor is not going to happen. It's complicated. I'll tell you later.
Even still, I like the packaging and I'm going to keep it. It's cute, fun, cheap, and it makes everything feel real to me. Some pieces will be packaged and some won't (the new pieces, the prototypes, etc).
If you're wondering.. they're cupcake boxes. 🙂
Last Bits:
There's going to be a lot more laser cut stuff coming. There's going to be more experimental stuff. And the white resin RC bookcase is coming back…