Sorry I haven't been updating this blog as much as I'd like. I have been working on quite a few projects and now have sooooo many pictures on my camera that I need to download and post up soon.
But for now, I just want to show off my $16 dollhouse and furniture "kits" I purchased from Michaels created by Creatology, which is owned by (or partnered with?) Michaels, so it may not be sold anywhere else.
I actually spent about $10 on these two kits because I used a coupon (remember to ALWAYS sign up for their newsletters!).
They are not 1″ scale, and are roughly 1/2″ scale which is ideal for me because I've been looking for a cost effective solution to getting into half scale minis.
These products are actually marketed as "3D Puzzles" for kids so I wasn't expecting the same kind of dollhouse collector's quality when I was building it. However, I can certainly see the potential after putting in some time and work to gussy it up to my standards.
So without further adieu, Here is my first adventure with Creatology products: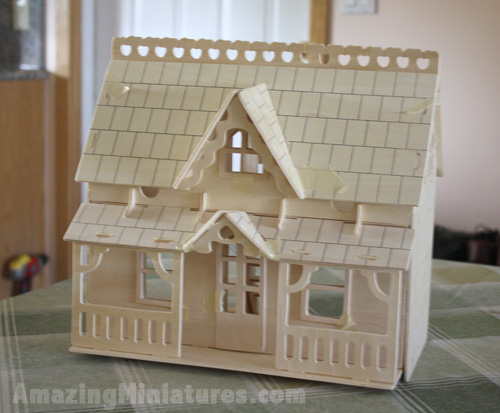 For the "Dollhouse with Veranda" kit, I forgot to take pictures during the assembly process, but it really didn't take long to put all the pieces together (about 30 minutes while watching TV). So it was all assembled before I even had the chance to think about the camera. Right now its just a dry fit before I decide on what to do with it next. For the exterior, I will likely end up making a lot of changes to make it less chunky and whimsical looking.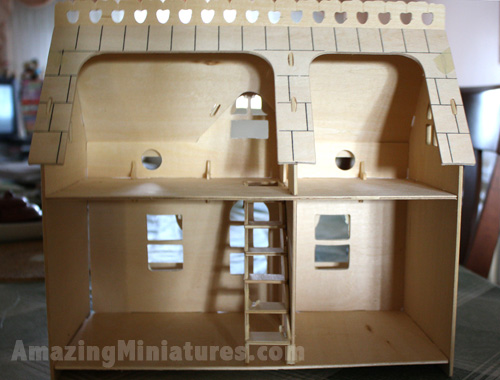 The picture above shows the interior layout. Notice that there is no opening doorway, so I am going to have to create one myself. The windows are not strait and square, and there are no interior window frames, so thats a bit more work to do as well. There are other problems which I will address below: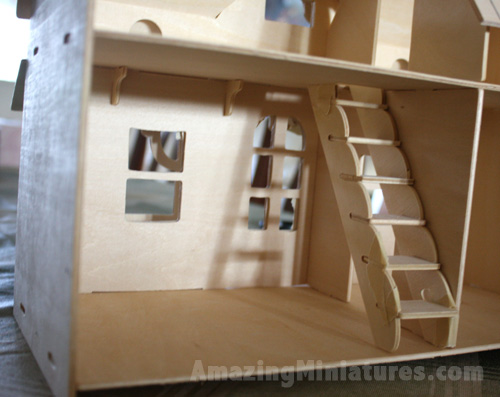 The stairway is positioned awkwardly, blocking part of the doorway.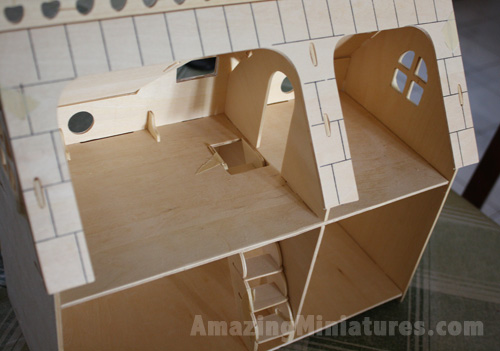 The second floor opens right in front of a doorway upstairs! I don't want my little people bumping their heads on the stairs or falling down holes, so I will have to do some minor bashing to the kit. The stairway will likely be moved to the side of the house, though I am not sure which side it will be yet.
Now for the furniture: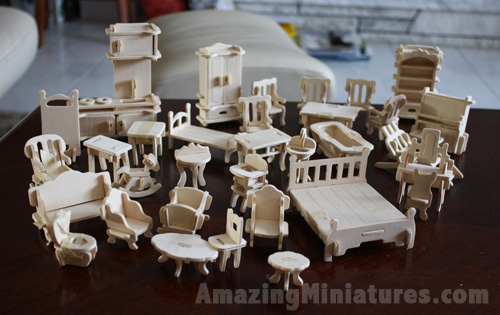 The furniture set, aptly named "Dollhouse Furniture" has TONS of pieces. They're not the most realistic pieces, but for the price I paid for all of these, it's an exceptional deal. These are also dry fitted until I can find the time to glue and finish them up.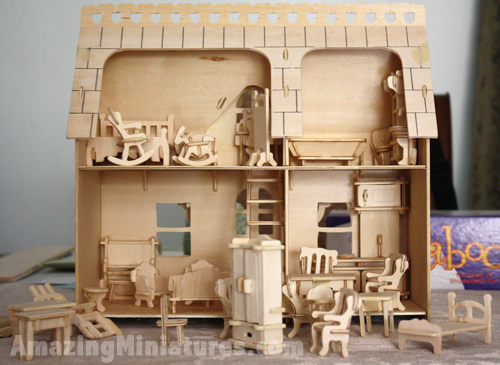 I tried to place as many pieces of furniture in the house as possible.. and you can see that its overflowing out into the back yard! The kit can furnish two whole dollhouses, so what did I do? Yep, I went out and bought a second of the same dollhouse puzzle kit.
Final Thoughts:
What drew me to the product was the fact that it's a wood dollhouse and the super cheap price (relative to how much I usually spend on minis). I was most interested in the frame of the house and knew full well that there will be some work involved to make it collector worthy. A plus is that the wood is smooth birch plywood and was a snap to get the pieces out of the sheets, where in some cases, it just fell out on its own. If you have ever worked with any Greenleaf kits, you will really appreciate the quality of the Creatology wood and its die cutting.
If you are a miniaturists and you like to put in extra effort finishing your dollhouses, you really can not lose with Creatology products.
Overall, I am extremely pleased with my purchases. Creatology also has other half scale-ish dollhouse kits for around the same prices and I'm looking forward to buying those too!
Where to Buy:
You can't buy these online from Michaels because they do not have an online store (though they really should!). The only place I can find them online is at Amazon.com: Creatology Wooden Puzzle: Dollhouse with Veranda 3-D Wood Puzzle
which they are selling for an outrageous $54.99. In this case, I strongly recommend that you try to find a local Michaels near you and buy it there instead since it costs about $8 from Michaels.
If you want to buy the furniture set online, its available at Amazon as well: Creatology Wooden Puzzle: Furniture Set
and it is at a reasonable $10.60. Though again, if you want to save a few bucks, it is cheaper at Michaels.
UPDATE: I wrote a post on the Creatology Dollhouse and Veranda instructions if you need it!