Ever since my last post on modern miniature dollhouses, I've been going a bit nuts looking at, learning about, and day dreaming of modern dollhouses and furniture.
Its got to the point where I've even went about designing my own mini modern house in a 3d CAD program. My ability with this program is fairly limited, so just image that the doors are in the curved area and that the balcony railings would be plexiglass, or something see through-ish.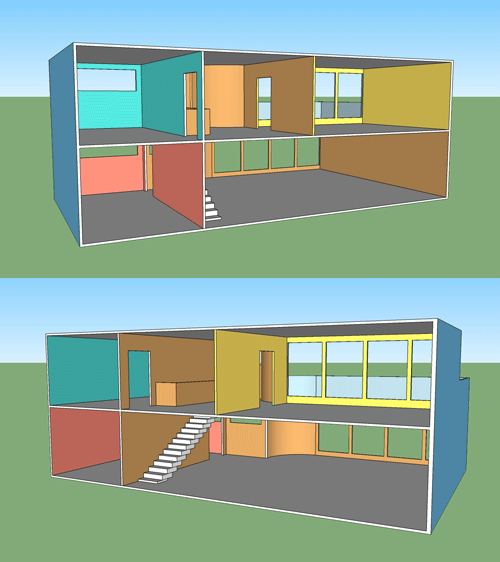 On the inside, the railings will also be plexi, the wall between the stairs and the great room  would be see through glass, and the inner railings (not shown) that will be a see through wall as well. Also not shown is a 2 way fireplace to divide the great room. The whole point is to have the entire first floor be see through from one end to the other. Overall I wanted to have a sleek design with clean lines and to have the rooms feel light and airy with a bunch of windows.
I color coded the rooms to identify them better. The 1st floor large/great orange room would be the open concept kitchen and living room, the pink room would be an office/den/library/misc, the teal room would be a bathroom, the 2nd floor orange room can be a sitting area, and the  yellow room would be a bedroom.
My father is a carpenter of sorts so I have access to a lot of the heavy equipment available to cut the pieces to size. I also have my own sets of power tools as well for the more delicate pieces. Its just a matter of figuring out where to get all the raw materials to put this thing together.
I'm pretty satisfied with my design, and I will have to draft it on paper before anything. I have no clue how it would hold up when actually building – if I even get to that point. Heck, I have not finished my first dollhouse kit and I'm already thinking of designing and building my own!
I am getting way ahead of myself and I really need to focus on one thing at a time or else nothing will ever be completed. If I ever do get to the point of building my own house, I'll definitely be sharing the plans here. Until then, I'm just going to keep dreaming.