Petunia is finally here. She actually arrived at the beginning of this month, but I just got around to editing the pictures and writing this introduction post now (slow, I know!). She is a tinyBJD from S. Korean dollmaker, LatiDoll. From what I can see, the only place you can buy brand new LatiDolls is direct from the maker, so no savings on shipping for me ($41, ouch!).
I ordered the LatiWhite Belle model from them as well as the basic outfit and a wig. I placed the order last year on December 24th. I expected the wait time to be long, but once it hit the 4th month of waiting, I started to get really anxious. Finally on June 4th, 2011.. she came home!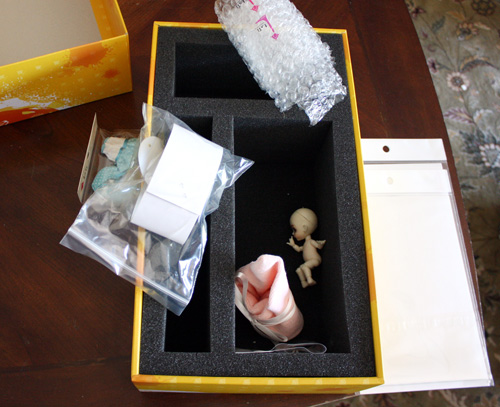 Unfortunately, this was what it looked like when I opened up the box. She slipped out of her little blanket and was bumped around a bit in the box. POOR THING!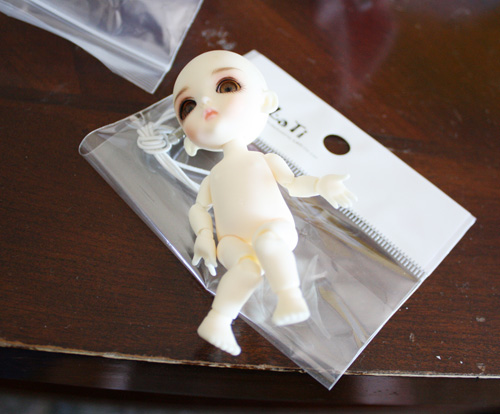 I've read reviews about the LatiWhites and heard a lot of people mention that they were "kicky." I didn't know what that meant until Petunia came home. The way the joints are sculpted makes them very prone to contorting and kicking when you don't want them to!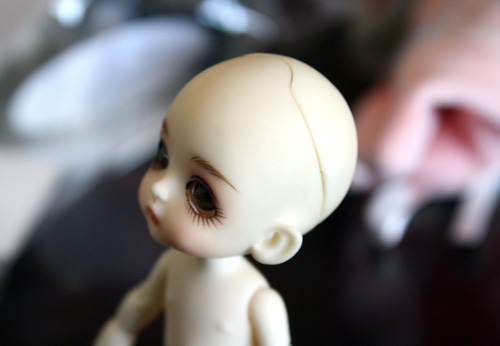 Another HUGE complaint were the markings, stains, dirt or whatever on her forehead. It's not that noticeable in the picture, but in person, it was very obvious. Fortunately, I was able to clean most of the dirt from her face using heavy duty masking tape. There is still some markings on her left check, but I left it alone for fear of ruining the makeup.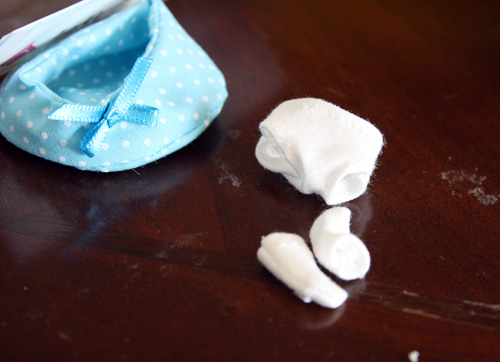 The outfit came with little underoos and socks. They are SO TINY! SQUEE! I definitely recommend the clothing by LatiDoll. It is extremely well made and fits like a glove.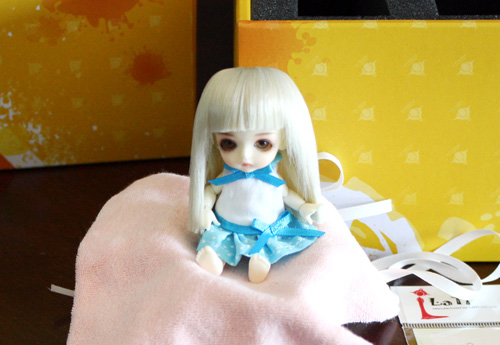 Here she is. For her wig, I've always envisioned her to be a curly strawberry-blond red head, so I'm going to have to do some shopping for her.
Before she came, I expected her to have the same (or similar) level of articulation and control as Dakota in posing. That's not the case with LatiWhites as her "kickyness" makes it difficult to even stand. It seems like all she can do is sit there and look pretty. She sure is pretty though…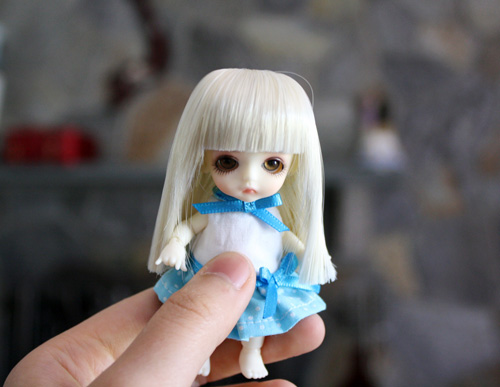 For the most part, I am really happy with her (see her unboxing pictures on Flickr). She is just so adorable. I want to gobble her up!
But with the looooong wait, poor posing, and dirtiness, would I buy from LatiDoll again?
Most likely yes (I might get a Pury or Laches next), but not anytime this year or even next. I want to check out the other tiny dolls first. Heck, right after Petunia arrived, I placed my first layaway payment for a TinyDoll Kai and won't be buying any dolls until she gets here.. probably 6 in months or so. This way, I wouldn't go bankrupted buying a bunch of dolls at once.
Okay, the next post really needs to be about dollhouses before this turns into a doll blog 😉