Finally back from a two week hiatus. I sure miss this blog! Its been really busy at work which cuts into my dollhouse time. The next few weeks should be relatively easy, so hopefully, I'll have more time to work on my cottage.
Now without further ado, I want to update everyone on the progress of my Coventry Cottage dollhouse.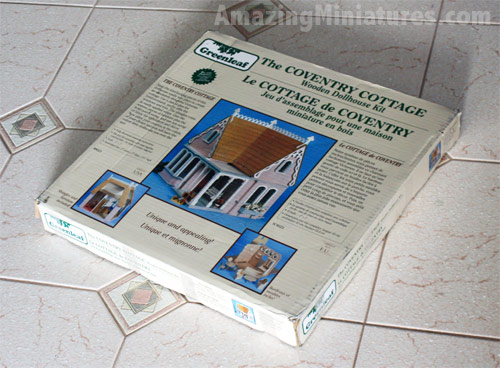 As you can see, it's still very slow going, but I finally glued on the roof trims. I decided to forgo the trim on the roof peak because it was way too girly for me. Also, perhaps adding the shingles will be easier?
I even straitened the under roof trim (is that even the correct name for it?) and got rid of the wavy fru fru-ness of it as well. You can compare what I did to the original pictured left.
I know it's not perfect, but for me, its preferable to the original trim.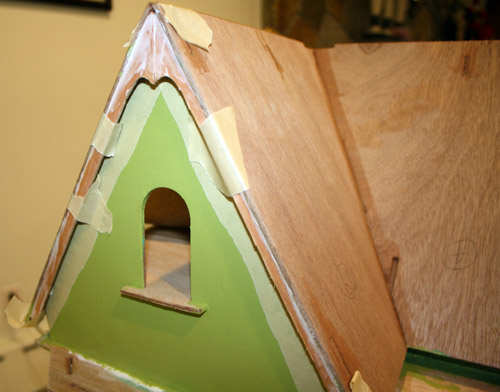 Pictured above is just a close up of the gluing and taping. I also taped under the trim in anticipation of painting the trim and any mistakes as a result from the painting process.
I had hoped to save myself some time from having to touch up from any mistakes, but little did I know…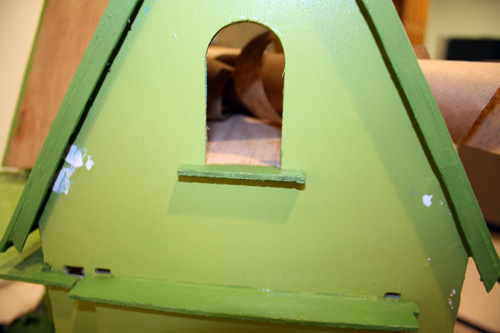 The tape pulled off the paint! What a bother.
Please refer to the last project post if you're wondering why its white underneath.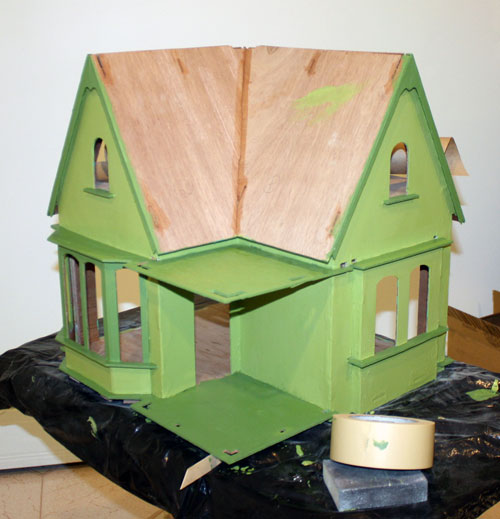 So in the end, I had to touch it up either way. I think next time, I will just hold up a piece of paper under the trim as I am painting it. It would save some time at least! Next on the list would be working on the rest of the exterior trim. I will be painting it a much lighter green to add some contrast to the house. If you have any tips to share, please do!
I know this isn't much of a progress update, but at least its something, considering my time constraints. Its funny to reflect back when I started this project that I had hoped to finish the cottage within a month, but now it feels like it won't be finished until next year! Bah!