Had these images sitting in my hard drive for a few weeks now (I actually have quite a few things sitting there!). This post is all about wallpapering my Coventry Cottage dollhouse. You can see my assortment of supplies purchased above.
The longer pieces are Mini Graphics wallpapers from my local dollhouse shop. I only looked at the clearance items that were green. They were $0.25 a piece. The square pieces are scrapbooking paper, on sale at my local hobby shop, for $0.50 a piece. And of course, its nice and green, just like the dollhouse.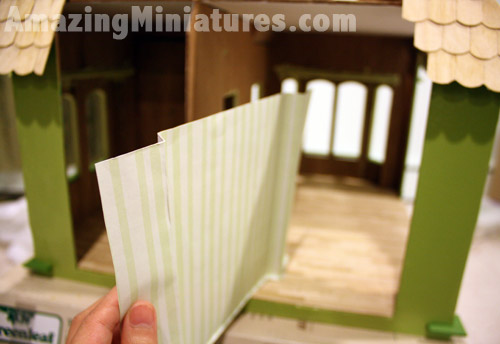 I've found that I don't particularly like wallpapering. I did not like having to wrestle through the folding process. And of course, when you add the glue, the paper expands then shrinks. It was all very annoying.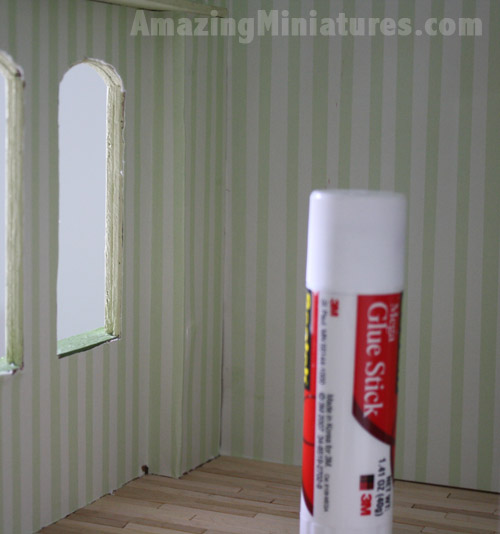 I used glue stick to adhere the paper to the walls and used one of those plastic gift cards to smooth out the bubbles. Most people seem to use wallpapering paste, but the glue stick seemed to work rather well, especially when I applied it to the paper and the wall.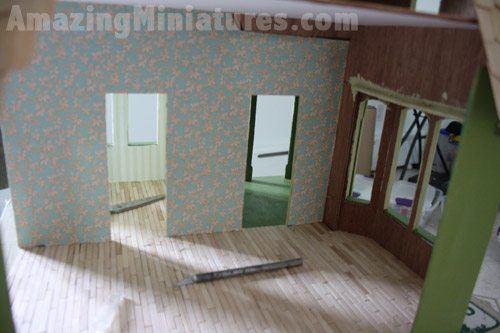 The larger room gets wallpapered. I found that the dollhouse wallpapers swelled more than the scrap booking paper. It's due to the thinner material that the graphics are printed on. I'm wondering if it would have made a difference had I used the wall paper paste instead?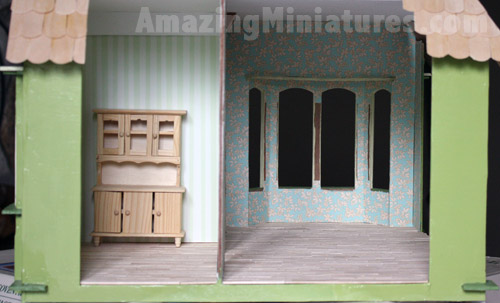 And tah dah! I'm done wall papering the cottage. Not shown in any of the pictures was the wall papering of the attic area. I used my white-ish cardstock that I've had for years now.
I stuck in the unfinished hutch for the heck of it.