The bookcases are done!
I just finished finishing the bookcases I am super pleased with how they turned out. With that, I decided to give it a whirl with some Re-ment goodies that I had laying around.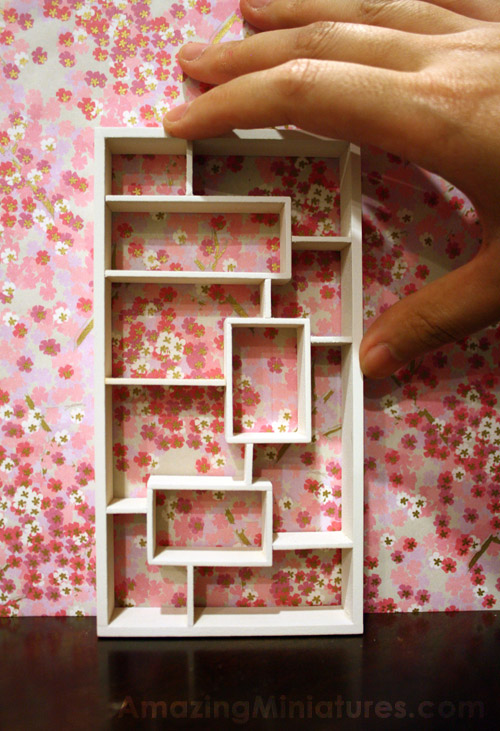 This picture makes me look like I have giant man hands, but I don't! It's just to give you an idea of the scale.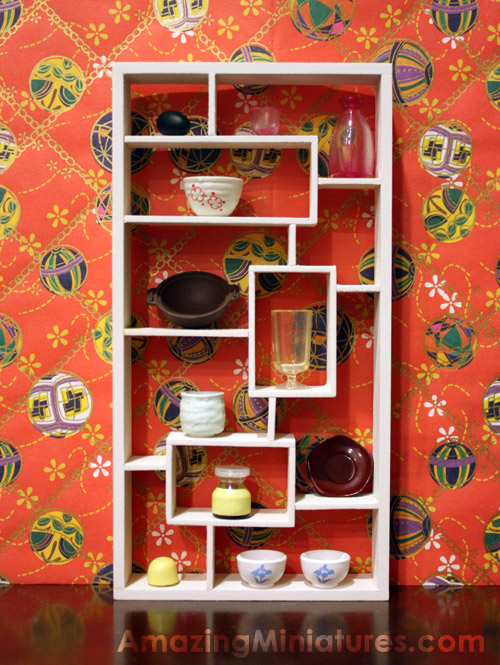 Most of the stuff used to decorate the bookcase is from the Rement Japanese Onsen set. The background is the Japanese paper my sister gave me a while back.
As for the details about the finishing process, all I used was 2 cans of Krylon flat white spray paint and lots of sand paper. I was painting other stuff too, so I didn't just use 2 cans of spray paint on *just* the bookcases. That would be silly.
I lost count of the number of paint+sanding passes it took to get it to the level of finish that I wanted. I usually do quite a few of them with the normal sized stuff I make anyways. As for this mini book case, it was more annoying for a few reasons.
I made the bookcases out of Basswood which is a new crafting material for me, because I've only ever used hardwoods or plywood in wood projects. Basswood is very soft compared to the typical materials I've used where you can even cut fairly thick pieces of them with a hobby knife. This makes it an accessible material to many people since it doesn't require power tools to cut it.
But one of the big down sides (in my opinion) to softwoods is that the wood fibers are not as long as, nor packed as dense as hardwoods which may result in a fuzziness, like peach fuzz on the surface of the milled wood. This fuzziness makes it really obnoxious to finish the final piece. Its even more obnoxious when you're trying to finish teeny tiny crevices of a piece.
But don't get me wrong, I really like working with Basswood. I can actually find it in sheet sizes that are perfect for 1:12 miniatures and it is indeed very easy to work with. In the future, I'll definitely be giving it a clear coat of shellac and a light sand to get rid of the fuzzies before cutting and assembling. I think that should help cut down on the fuzzies when it comes time to finish the piece.
All in all, a great project and a great learning experience.